As an image advisor I love to talk trends with my clients and friends. This Autumn/Winter season is no different; in fact, I think it's going to be a bold, colourful season.
Here's my fashion tip in 3 words:  Buy the Print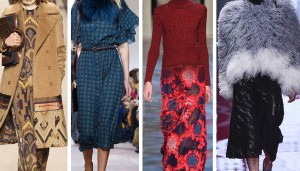 Yes, I'm a solids fan but when I want to be inspired I go to my prints.  The activity in a print or pattern ignites happy thoughts in my brain – which helps me stay uplifted throughout the day.  Solids just do not have the same impact; they keep me grounded. But that can get boring.

Are you stuck in solids? Do you get stressed at the thought of adding a print? 
Do this short exercise to reduce your stress and 'reframe' your approach to prints.  Strategies help us succeed at anything we want to accomplish, right?  For just a moment, then, consider creating a wardrobe strategy that includes a print…as in only 1.

Think of a silk blouse with an all-over print (as in animal, fleur de lis, or dots).  Why silk?  You can dress it up with a suit for work and you can wear it with jeans and a cardigan for play.  It can be a button-up or a scoop neck, whichever complements you the most.

Now, what should the print actually look like?  That depends on your personal tastes and size.  Don't get stressed over choosing the perfect print, instead, use these guidelines:
choose a print that is small-to-medium in size (if you're small to medium in size)

avoid a petite print (if you're large or plus size) 

steer clear of prints that are too juvenile for your age 

always wear a sheer print with a camisole 
Did that help make it easier to choose a print? Start with just 1. I promise, it will not reproduce and hijack your closet overnight. Instead, it will add a sense of fun into your wardrobe and that fun will add energy to you throughout the day. Then, when you're ready 1…can turn into 2.

Plus, (and this is always an advantage) you will be ready for Spring/Summer 2016! Want some personal shopping help?  Contact Julie to learn more about creating a wardrobe strategy for success.

As your Dallas Image Advisor and Personal Shopper, it is my mission to help my clients always look fabulous, without being a slave to the whimsical ways of fashion trends. I am passionately committed to making sure my clients always look their very best in order to help them achieve their personal and business goals. If you have any questions or are interested in a personal consultation, give Julie a call at 214-223-2200.